Sioux Falls, SD (June 9, 2014)— Raven Aerostar (NASDAQ: RAVN) was recently recognized by NASA for its contribution to the highly successful 2012/2013 Antarctic Long Duration Balloon (LDB) Campaign. The 2013 NASA Group Achievement Award was awarded to Raven Aerostar in August of 2013 for the production of Long Duration/Super Pressure balloons; it was recently presented by a NASA official at Raven Aerostar's High Altitude Center of Excellence in Sulphur Springs, Texas.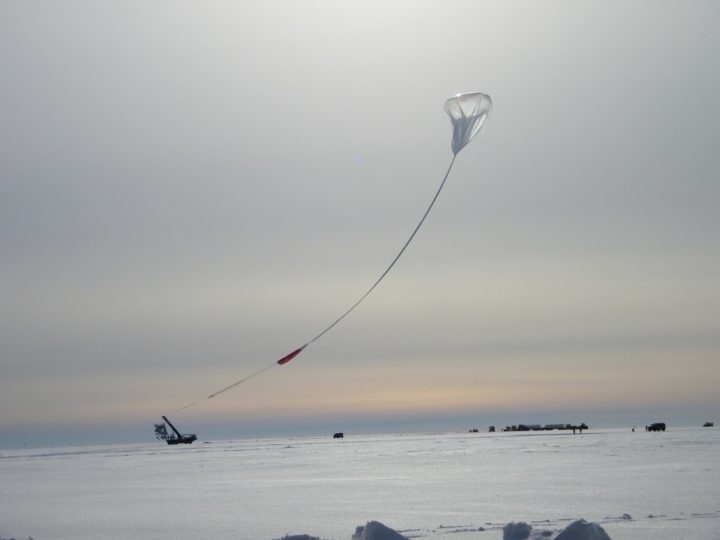 NASA's BLAST (the Balloon Borne Large Aperture Submillimeter Telescope) launched December 25, 2012 via a Raven Aerostar 39-million cubic foot scientific balloon.

"Raven Aerostar has been deploying payloads into the stratosphere since the 1950s. The technology leaps we have made with NASA and Google's Project Loon in the last 12 months have been revolutionary. It is an honor to be recognized by NASA for our contributions to stratospheric balloon flight," said Lon Stroschein, Vice President and General Manager of Raven Aerostar.
The Group Achievement Award is among NASA's prestigious Agency Honors Awards; it recognizes outstanding group accomplishments that have contributed substantially to the Agency's mission.
"Long Duration Balloon flights from Antarctica have been called the 'crown jewel' of the NASA Balloon Programs flights," explained Debora A. Fairbrother, Chief of the NASA Balloon Program Office. "The launches and extended flights offer the science community a unique platform to launch very large payloads to near space altitudes for flights lasting many weeks."
Agency Honor Award nominees must undergo a rigorous review before being approved by the Incentive Awards Board chair. Criteria for the Group Achievement Award include:
Quality of results
Effective management of cost and schedule
Customer satisfaction
Team growth and capacity for future contributions
Development of innovative approaches
"A successful campaign and successful flights are products of the energy and dedication of many different people working well before the flights, in support of the integration and launch operations, in the field for launches, flight operations control for the duration of the flight, and then recovery," said Fairbrother. "Each piece must work perfectly for the operations to be a success."
Since the Antarctic LDB campaign began in the early 1990s, Raven Aerostar has provided NASA with successful balloons for nearly 20 years, allowing the NASA Balloon Program to achieve more scientific missions with longer duration flights. During the 2012/2013 LDB Antarctica Campaign, the team was able to meet the full desired success criteria, and one balloon flight broke the longest flight duration record for a large, NASA flown, scientific payload on a balloon, flying for over 55 days.
"The successes of NASA's high altitude balloon flights are very important to Raven Aerostar, and this award demonstrates the quality and dedication put into each product designed and manufactured at our High Altitude Center of Excellence. I am proud of our committed team and am hugely supportive of all of our efforts taken to make each balloon flight successful for NASA," stated Stroschein.
In addition to Raven Aerostar, team members from NASA, Columbia Scientific Ballooning Facility (CSBF), Charter NEX Films and Physical Science Laboratory (PSL) each received this award, showing outstanding commitment and teamwork while working towards NASA's successful Antarctic season.
About Raven Aerostar: Raven Aerostar consists of wholly owned subsidiaries Aerostar International, Inc. and Vista Research, Inc. Raven Aerostar is a world leader in the design and manufacture of highly technical aerospace, surveillance technology, navigation aids and specialty sewn products. The company has a rich history, solving great challenges and delivering life-saving solutions through its advanced solutions; in addition to stratospheric balloons, Raven Aerostar's engineers design and manufacture tethered aerostats and persistent surveillance solutions, Vista radar solutions, marine navigation aids and protective wear. Raven Aerostar is committed to providing highly technical and groundbreaking technology for critical missions that can change the world.
About Raven Industries, Inc:Since 1956, Raven Industries has designed and manufactured high-quality, high-value technical products. Raven is publicly traded on NASDAQ (RAVN) and has earned an international reputation for innovation, product quality, high performance, and unmatched service. Raven's purpose is to solve great challenges in areas of study, feeding the world, energy independence and resource preservation. To realize this purpose, we utilize our strengths in engineering, manufacturing and technological innovation to serve the precision agriculture, high performance specialty films, aerospace and situational awareness markets.
On the Internet, information is available at:
www.ravenaerostar.com
www.ravenind.com
www.csbf.nasa.gov
Contact Information:
Abby O'Hara
Marketing Manager
Raven Aerostar
Ph: +1 (605) 731-0981
Email: abby.ohara@ravenind.com
The post NASA Presents Raven Industries with Prestigious Award for Outstanding Contributions appeared first on Raven Industries.