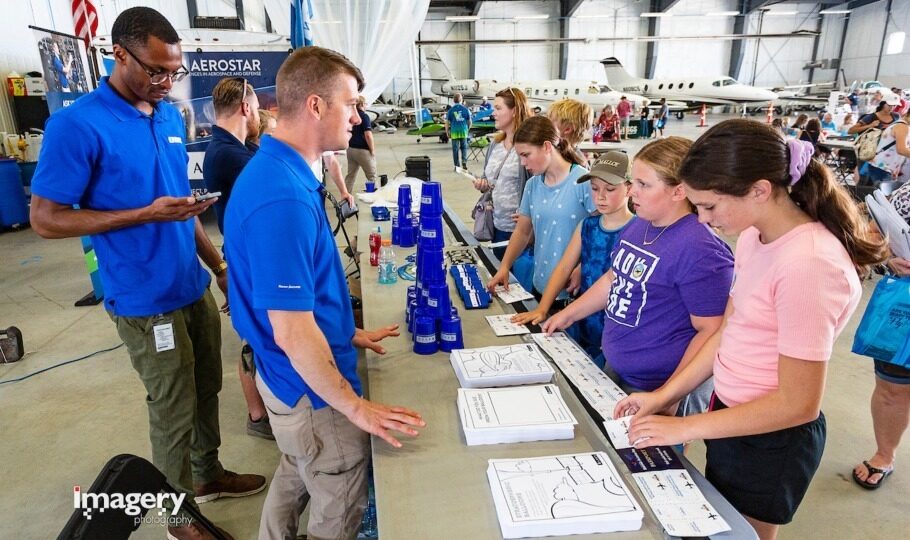 Last week, Raven joined the local aerospace community for Sioux Falls Airshow's Discover Aviation Day, a day filled with fun and interactive activities for kids of all ages! As the premier sponsor of this event, Raven showcased our commitment to STEM and the future of aerospace.
The Raven Aerostar team developed a booth experience that highlighted the full range of our aerospace technologies, including:
An inflated Thunderhead Balloon.
A display of our Thunderstorm balloon tracking software.
Raven-themed coloring sheets.
A crew of passionate Raven team members, who chatted with attendees about our technologies and job opportunities.
In addition, Raven-sponsored planes from the Vanguard Squadron were present at the Maverick Air Center. Raven Engineering Manager Mark Ketcham and Senior Software Engineer Mike Romanowski, who are also members of the squadron, gave kids the opportunity to see what it's like to be in the pilot's seat.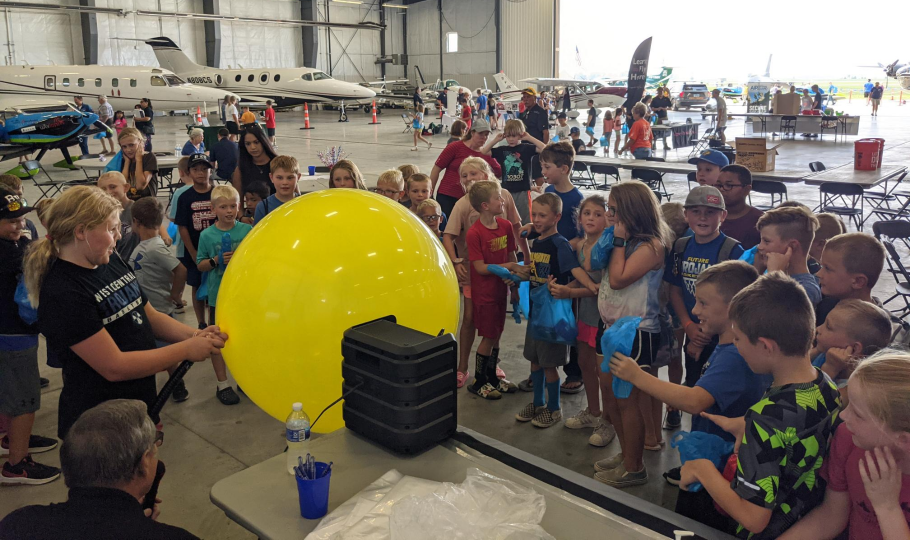 One of the highlights of the Raven experience was a series of live material burst demonstrations. Mike Smith, Principal Design Engineer, compared the material qualities of our flexible, inelastic polyethylene balloon film material to an elastic latex balloon by inflating both. The kids marveled at the clear poly "balloon" as it stretched into a large bubble — and then burst!

The Raven Aerostar team had fun representing Raven and inspiring the next generation of pilots, engineers, and scientists. Events like Discover Aviation Day reflect Raven's commitment to STEM education in our community. Here's what our team had to say:
Personally, I enjoyed the ability to reach out to so many kids and their parents about STEM/aviation. It is really a great opportunity to represent Raven during these types of events and show our community that you don't have to go to far off places to find companies that do aerospace work."


— Eric Eigenberg, Flight Engineer Lead, Raven Aerostar
I would say my favorite part of the day was getting to share my love of aviation with the many children that sat in our Vanguard Squadron airplanes while I explained how the controls work.

The one surprising moment I remember was when a child of about 10 years old was able to tell me how high our balloons fly when I asked him because he has been watching them on an online flight monitor. He knew that we fly at about 64,000 feet. No other adult or child that I met that day was able to answer that question."

— Mike Romanowski, Senior Software Engineer
It was a great helping with Aviation Day! Something I took away from it was the reaction everyone had when we told them how high the balloons go up. Their expressions were priceless."


— Rick Johnston, Process Development Specialist