At Raven, providing outstanding service — both to our external customers and to our fellow team members — is essential to our success as an organization. Internally, this has been prominent in the implementation of Project Atlas, our strategic long-term investment to replace the Company's existing enterprise resource planning (ERP) platforms.
Raven Aerostar's Supply Chain Manager Angie Meyer, Project Controller Peggy Mach, and Scheduler Audrey Nelson provided outstanding support in their division's implementation, ensuring that the software's new functionalities were integrated smoothly. Congratulations, Angie, Peggy, and Audrey, on winning our February Team Member Spotlight!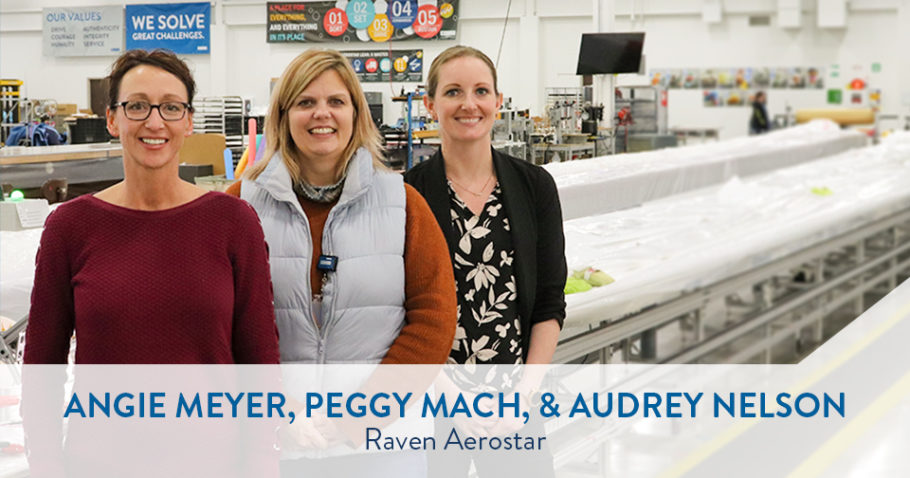 The Atlas Defense Module (DME) was delivered by our software vendor late into Raven Aerostar's eight-month software implementation process. The DME not only added a bunch of functionalities, but also changed a bunch of processes that had already been defined and reversed a handful of decisions that were previously made.
Peggy, Angie, and Audrey really 'took the bull by the horns' and owned this module."

— Travis Hamilton, Business Systems Analyst
Upon arrival of the new module, the trio put in the time to learn and fully understand the new module's functionality through intense vendor training. From there, they led efforts to train others on the core Atlas implementation team. They also helped in the testing of business use cases and scenarios, validating any potential conditions that could have been affected or changed with the DME. Overall, they went above and beyond in ensuring that the implementation went smoothly for all teams and team members involved in the process.
Thank you, Angie, Peggy, and Audrey, for your outstanding service, ensuring the success of the Atlas Defense Module implementation!